New tutorial: Create a Telos Account & install Anchor wallet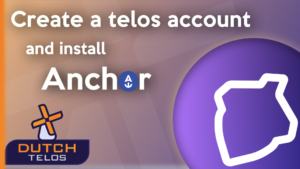 Hot off the presses, we just released our first video tutorial about Telos. Today's topic: How to get started in the Telos blockchain ecosystem. We are showing Telos newcomers how to create a web wallet account and install the Anchor wallet to manage their account.
In our video we'll briefly explain the basic steps needed in order for you to begin your Telos journey.
Transcript
For those who rather read the transcript than watch the video:
hi there, today we're showing you how to create a
Telos account and install the Anchor wallet.
First off let's create a Telos
account. Go to this link.
Here we are at the Telos web wallet interface.
Create a new account. Select create a new account.
I've already made this account so that's why
it says "the account that welovetelos already
exists". These are the keys that belong
to your account. Save them in a notepad
and keep that as safe as possible Select I've
copied my key somewhere, I'm not a robot.
press continue. Now let's go to the
next link to install anchor wallet.
if you want to install anchor wallet
on your desktop, click this link.
I'll leave the link in the description
box. like this one; select install.
here we go; should be done in
a few seconds. select finish.
here we go and now we go to set up an account
click set up an account, select your personal
passwords. Here we go; Set password. Now select
the Telos network and now we're going to import
an existing account. I already got my private
key copied to my clipboard so i can select paste,
and now we gonna select the active one. In my case
it's welovetelos1@active. Select import accounts.
password again; authorize; and here we go. If
this video was helpful to you please like the
video and maybe give us a follow on
our socials. i'll leave those in the
description box below. Thanks for watching