How to install & set up MetaMask to interact with the Telos EVM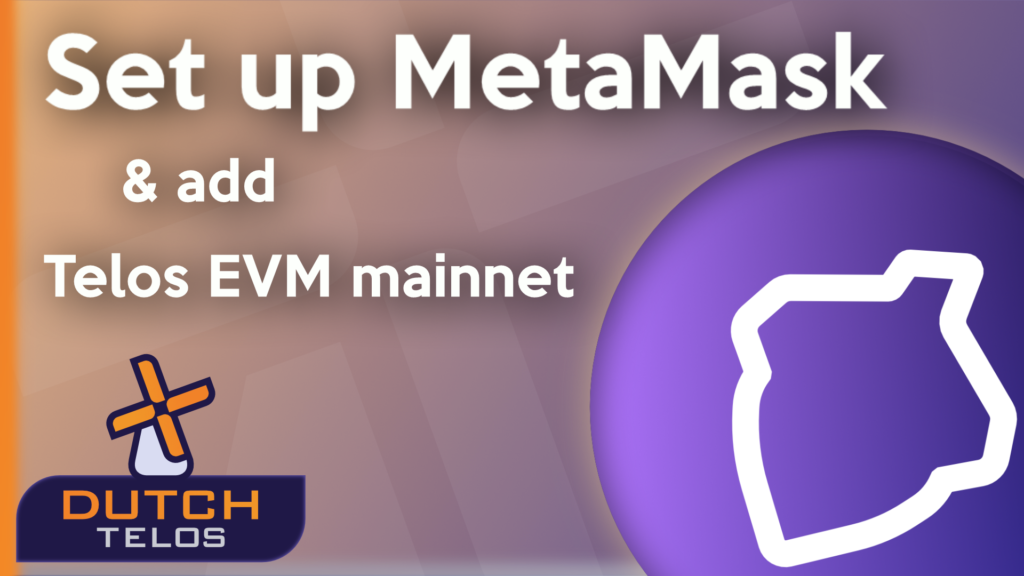 We just released our second tutorial on the Telos EVM. This time we are going to demonstrate how to use Metamask to connect to decentralized applications that are built on the tEVM.
Interacting with DAPPs such as Omnidex, AreaX and multichain really shows the true power of the Telos EVM. Lightning fast trades and very low gas fees makes DeFi transactions a lot more enjoyable. If you want to see more of our videocontent, please click this link to our YouTube playlist.
Transcript
For those who rather read the transcript instead of watching the video

It's time for us to take the tEVM for a spin and see what we can actually do with our TLOS on the EVM mainnet.
Hi! Welcome to another Telos tutorial by DutchEOS.
Before we start off, we would really appreciate it if you click the subscribe button below the video, and also follow us on twitter: @DutchEOS
Today we are going to set up metamask and connect it to the Telos EVM and transfer some TLOS from our web wallet to Metamask.
Metamask is an ethereum based hot wallet designed to do transactions and store cryptocurrencies. It's also used to interact with dAPP's. So in order to interact with all tEVM based dAPP's, you need a wallet like metamask. You also need some TLOS on your metamask EVM address to pay for gas fees. If you are new to Telos, I suggest you watch the playlist for Telos newcomers first. Click the link to our playlist to start off correctly!
Let's dive in. First let's install metamask, it's available for PC and mobile.
When you finished the installation process, please go to chainlist dot org
Here you can find numerous EVM networks, but we are here for the Telos EVM which is located at #40
Click connect wallet, and confirm that you want to add 'EVM mainnet' in Metamask
Now you can select Telos EVM mainnet if you click this middle rounded section, there you can find EVM mainnet.
Let's bridge, or you can also call it transfer, TLOS to the EVM mainnet
First let's copy your EVM MAINNET address to our clipboard
Head over to the Telos wallet interface and click the middle rounded section EVM
There you can fill in the preferred amount of TLOS and the Metamask address you copied earlier
Click deposit and now your TLOS will show up in your metamask extension or app
Now that we have set up our metamask correctly and successfully deposited some TLOS, you are able to connect to tEVM based dAPPs and pay for gas when needed.
Omnidex, a decentralized exchange similar to pancakeswap
AreaX, a NFT marketplace (connect MM to AreaX)
Multichain, for bridging tokens to other chains, for example the Binance Smart chain.
let us know in the comment section if you want to see a video on how to use these particular applications
If you enjoy our content please like, comment and subscribe. Don't forget to follow us on twitter @DutchEOS.
Thanks for watching and I hope to see you all in the next one!