Why you should consider DutchEOS for Block Producer
As a smaller BP, your vote really matters to our continued survival. We can't wait to show you why we deserve it!
Community Leadership
We created the eosmonitor.dutcheos.io monitoring tool to keep track of Block Producer performance. Transparancy is important to the strength of EOS.
We are member of the EOS Integrity Pledge initiative. This initiative aims to safeguard the high ethical standards EOS network users demand.
We're creating helpful content through our blog, and our Medium, Twitter, Youtube and Reddit channels. For example our offline voting video. We want the whole world to know about the benefits of EOS!
DutchEOS is actively helping out in the Jungle testnet as dutcheosioxx. For example, mid-june we helped our peers to recover the blockchain, made possible because of our policy to make regular blockchain snapshots.
Multi-disciplinary Team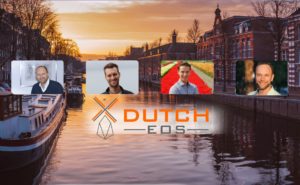 Our team consists of a balanced group of people sharing the vision for a decentralized future. Joost & Arjen have extensive experience with running nodes and pools both on bare metal and in the cloud, while Jan excels at finance and strategy. Steven keeps us in touch with the community.
All of us recognize that the next generation of decentralized applications requires a significantly more potent protocol layer and that EOS is specifically designed to help reach this goal.
Independent
We are not affiliated with any of the bigger token custodians, who may not have the best interest of the EOS network at heart. We are worried about the trend of exchanges casually showing their muscles as Block Producers; as it is just a side-activity for them, are they really paying attention?
Read why BP independence should be important to you 
Well-designed Service Architecture
Our team has extensive experience with running nodes and mining pools both on bare metal and in the cloud. Until we know better, we're sticking with the cloud for the EOS.IO Mainnet. Our initial infrastructure will be the Google Cloud Platform hosted in The Netherlands, where we are based. Using GCP will help us to ensure 100% uptime for all of our nodes and storage facilities. If you'd like to find more information on Google's setup in the Netherlands, please go here. Our infrastructure will be deployed and managed through Kubernetes.
After being established as a reward earning block producer, DutchEOS will move to bare metal solutions if that reduces the overall operating costs. Alternatively we will consider whether GCP remains the best cloud solution.
Vote dutcheosxxxx on EosPortal.io >>
Read our Guide to Voting >>