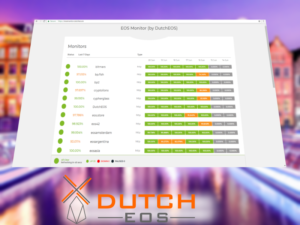 Always wondered what the performance of your favorite block producer is? We at DutchEOS were curious as well. That's why we created a basic tool for the community to monitor public BP endpoints.
Like our work? Vote 'dutcheosxxxx' to keep us going!
The DutchEOS Block Producer Performance Monitor
Junglenet — proving ground for smaller BPC's
Junglenet allows smaller BPC's to prove their capabilities, because they have a shot at actually producing blocks as part of the top 21. Using jungle.eosmonitor.dutcheos.io, anybody can inspect performance of all BPC's active on junglenet.
Mainnet — keeping the incumbents honest
eosmonitor.dutcheos.io aims to keep track of the top 30 producers, as well as DutchEOS. Surprisingly, after monitoring for a few days we can see that some low-performing BP's are still in the top 21. Is it time to reconsider your vote?
Vote for us if you appreciate our work. We'll need your help to keep creating tools like this! Vote 'dutcheosxxxx'