Dan Larimer speaks out on EOS constitution rewrite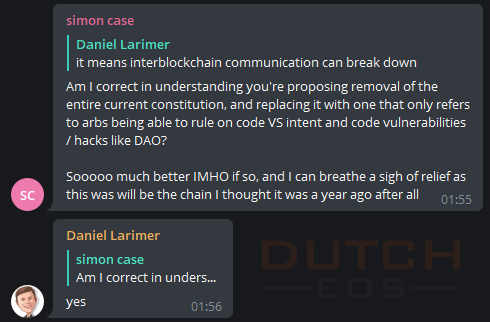 In a widely shared conversation, Daniel Larimer (CTO of Block.one, the brain behind EOS) spoke out in favor of a full replacement of the current constitution.
This was to be expected, as Block.one previously removed the constitution from its repository mere days before the scheduled Mainnet launch, to no avail: The deleted version was reinstated by the community, with minor alterations.
Dan's Alternative
Larimer seems to be in favor of a more stripped down constitution, removing current nuances that many consider problematic to implement in future governance actions. What remains is a more technical approach, where the intent of contract code is weighed against its actual consequences, and corrections are made to the current state based on what the code should have been.
History of the EOS Constitution >>
DutchEOS position
As a Block Producer, DutchEOS has the following position in this debate. In our opinion the current Constitution is not fit for prolonged use. It has some troublesome articles, most notably Article II (No Perjury), Article XV (Termination of Agreement), and possibly Article IX (Dispute Resolution) and Article VI (restitution). We would welcome a more bare-bones constitution, until a substantial public debate, and substantial documentation is produced on the implications of any 'soft' clauses.
Why your vote for DutchEOS  matters >>
For more context on this subject, we recommend our article on the recent history of the EOS constitution
Source: Telegram group concerning Eos Governance; DutchEOS opinion.